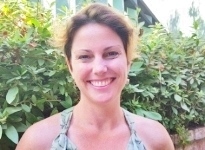 Licensed Marriage & Family Therapist (#106872)
Board Certified Art Therapist (ATR-BC #17-162)
lindsaykay@artnsoultherapy.com 
(916) 583-8499
www.artnsoultherapy.com 
Lindsay Parkinson is a Licensed Marriage Family Therapist, Board-Certified Art Therapist, and Artist. Her work is dedicated to creating trusted relationships and space for the process of narrating one's story.
Lindsay graduated with her MA from Notre Dame de Namur University for both Marriage Family Therapy and Art Therapy, after having received her BA from San Francisco State University in Child & Adolescent Development, Youth & Family Services. Traditional talk therapy is the primary focus of her work, utilizing Narrative, Cognitive Behavioral (CBT), Problem-Solution Focused, and Family Systems theories.
Lindsay is a Bay Area Native, and before coming to Middle Way Health worked in community-based programs such as psycho-social rehabilitative day treatment, residential, as well as Partial Hospitalization (PHP) and Intensive Outpatient (IOP) with both teens and adults. Having personally struggled between the ages of 16 and 25, Lindsay knows how to identify with those seemingly small daily trials to the larger issues of tragedy and loss. This period of young adulthood (which is now referred to as Transitional Aged Youth, or TAY) is often overlooked and underserved.
Art Therapy is specialty offered to those who have an interest combining art and creativity together with the traditional therapeutic process. Artistic mediums are used to promote self-expression, self-esteem, skill-building and play, in order to facilitate further growth and communication during treatment.
As a young artist, Lindsay used to focus on perfecting the outcome of her product – relentlessly and endlessly – until it became unbearable and she could no longer complete projects. She had lost all confidence in herself due to that harsh inner critic. This happened in many areas of her life. It became a cycle. The only way out was to ask for help, and that was the hardest part. Over time and through the safety of a therapeutic relationship, she was able to find new perspectives on past challenges and develop a stronger voice for who she was and where she was going.
Lindsay is a suicide survivor and family member of an Afghanistan War Veteran. She chooses to continue working in settings that promote empowerment and healing using strength-based, humanistic approaches. Her early life experiences laid the groundwork for her interest in service to others, it gives her a unique lens in which to provide support and non-judgment for whatever it is you may be facing.
"Art has given voice to my spirit, to my journey, and given me the tools I've needed to heal. I share this now in hopes to inspire others on their own spirit journey."