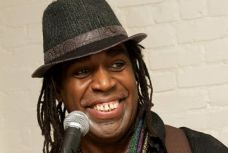 Singer-Songwriter/Performer
Clem's Facebook Page
La Dolce Vita song
(415) 724-4413
Clemon Charles grew up in Barbados singing in church groups and folk groups, eventually traveling around the Caribbean performing. It was his desire to branch out musically that brought him to the States. Since then he's worked extensively with Bill Graham and Dr. Oz's group Health Corps, also regularly doing shows around the Sacramento region.
Clemon performs at Middle Way Health's La Dolce Vita events and is also available for hire.