We offer various programs at Middle Way Health that are designed as educational, empowering, one-on-one support sessions for those wanting to take a more proactive role in their healing, creativity and growth.
………………………………………………………………………………………………..
Middle Way Health Wellness Program

The Middle Way Health Wellness Program is a prepaid program that allows businesses and individuals to use one or all of our clinicians and services. This is a unique and comprehensive approach to care where each program is individualized to fit one's needs.
For Businesses & Individuals
A Variety of Services & Clinicians
Emotional/Physical/Spiritual Healing
Comfortable, Uplifting Environment
Friendly, Welcoming Staff
Easy to Access
Strictly Confidential
Middle Way Health provides a uniquely varied and full-bodied approach to health and wellness, covering the mental, emotional, spiritual and physical aspects with a variety of skilled and sensitive practitioners who work together to optimize healing opportunities for our clients. Modalities include:
Individual, Couple & Family Counseling
EMDR Trauma Protocol
Mindfulness-based Psychotherapy
Buddhist Psychotherapy
Shamanic Healing & Meso-American Healing
Yoga
Ayurvedic Medicine
Reichian Therapy
Dream Life Designing & Creativity Coaching
Business Consulting
Tai Chi/QiGong & Meditative Movement
Energy Medicine & Essential Oil Healing
Biofeedback & Hypnotherapy
Personal Training & Massage Therapy
Maternal Wellness & Yoga
Drug & Alcohol Counseling
Classes, Workshops & Books
Advantages to Employers – Employees are more likely to use a wellness program that requires no co-pay or referral, is easily accessible and entirely confidential. Recovery, personal and family related problems are common reasons why employees are not thriving, and these individuals would usually rather talk with a professional that is not affiliated with their insurance for confidentiality reasons.
Advantages to Employees/Individuals – Employer-assisted programs are free to employees (no co-pay) who may contact us directly and at their convenience. Employees/Individuals may also choose from our array of professionals and services, as well as talk directly with someone who can help. There is no bureaucracy, no 3rd party administration or approval needed, no getting lost in a phone maze or lost in the system. Clients can usually see someone within the same week.
Advantages to the Community – With the mindset that healing is not just mental or physical – but also spiritual, transformative and creative – we see wellness-seeking as a significant component to a healthful life-style. This "self care" empowers the individual, strengthens authentic relationships, and equips the community to be responsible for its own wellbeing.
Feel free to contact us to learn more about how Middle Way Health can help foster healthier lives, lifestyles and organizations.
………………………………………………………………………………………………..
MINDFULNESS
Mindfulness is defined as moment by moment nonjudgmental attention to what is happening. Through sitting still and being alert we calm our mind and body and develop clarity, balance and focus. Mindfulness Meditation is useful to help treat stress, chronic pain and anxiety. It is adaptable to any religious tradition and non-religious approaches.
For Mindfulness Practitioners, contact Middle Way Health or visit our Staff Page.
For our Mindfulness Meditation Group, view the flyer here: Mindfulness Meditation Support Group
or join us at Meet-Up Sacramento.
………………………………………………………………………………………………..
HYPNOTHERAPY
Hypnotherapy is an ancient technique that uses deep relaxation coupled with positive suggestions to reinforce positive habits and extinguish negative habits. Deep Hypnotherapy can also be used for spiritual and psychological journey work where people meet archetypal energies and figures that promote healing and guidance.
The transformative style of Hypnotherapy offered at Middle Way Health assists the client in re-patterning the underlying cause of our suffering buried deep in the subconscious in order to turn our pain into joy.
For Hypnotherapy Practitioners, contact Sue Marshall or Judy Lynn Taylor.
………………………………………………………………………………………………..
SHAMANISM
A Shaman is a person who can alter their perception with percussive sound and enter into the world of non-ordinary reality, come into relationship with the compassionate helping spirits, and together with those spirit allies bring healing and information into ordinary reality for the client.
Receiving shamanic healing from a Shamanic Practitioner can bring your spirit body into harmony – a harmony that radiates through your entire Mind-Body-Spirit being. With soul retrieval, soul loss can be restored. With Extraction Healing, your spirit body is cleansed of 'other' energies. And with a complete healing program, your feeling of balance can be restored.
Have you been bouncing around from healer to healer looking for help? Many people try different methods of spiritual healing before giving shamanism a try.
Shamanic healing can offer answers to:
Why am I stuck?
How can I satisfy this spiritual hunger?
Why do I hurt?
Where can I go for help?
For more information, call Judy Lynn Taylor at Middle Way Health and visit www.AdventuresInShamanism.com.
Also offered 1st & 3rd Thursdays: Shamanic Drum Circle flyer 2015
……………………………………………………………………………………………….
DREAM LIFE DESIGNING
Dream Life Designing offers fun, personalized consultations that help you get in touch with your true essence, uncover what is truly meaningful to you, and experience all the little blisses along the way. It will help you become more aware of your rich, inner world and learn how to literally bring that to life so you can decorate and enrich your days with it.
Exercises include Awareness Coaching, Expressive Writing, Dream-storming, Image Gathering, Symbol Guides, Storytelling, Creativity Coaching and Spiritual College. Sessions are uniquely designed around each client's personal and/or professional desires, goals and wishes.
A 4-session package can be purchased for $100, or individual sessions may be scheduled for $30 each.
Contact Melanie Noel Light, your Dream Life Guide, at (916) 425.4478. www.DreamLifeDesigning.com
………………………………………………………………………………………………..
MOMMY MOOD
Many people think a "good mom" is someone who denies herself everything for the sake of the children, but there is nothing we can give to our child that is more important than ourselves. More than what you teach your children, they will learn from what you model for them. We all need help sometime.
For more 'Mommy Mood' visit Colleen Wong's bio page.
………………………………………………………………………………………………..

TAI CHI/QIGONG
Tai Chi/QiGong classes promise serenity, flexibility, and more feel good stuff! Whether you've never tried this kind of slow-moving, meditative movement before, are a regular practitioner, or are somewhere in the middle, everyone is welcome.
Tai Chi/QiGong classes are offered at Lion's Roar Dharma Center (3240 B St.), and are taught by Lion's Roar Instructor Robert Nakashima.
………………………………………………………………………………………………..

AYURVEDA

Services include:
Summer Heat Relief Treatment traditionally called Ksheerdhara, cooling coconut oil scalp massage and  herbal milk decoction is poured in a steady stream on the head to help reduce the discomfort of summer heat, calming and cooling irritability, reducing burning sensations, improving complexion, reducing insomnia, and promoting a sense of peace and calm.
Insomnia Program: Includes consultation for diet, herbs, lifestyle, and body therapies specifically targeted towards significantly improving sleep and overall well being.
Ayurveda Health and Well Being Consultation:  Learn what foods, herbs, teas, exercises,  and lifestyle tailored to your specific health goals can turn around ones health and improve energy, happiness, and stress reduction.
Ayurveda Grief Support:  Ayurveda offers specific body therapies to help reduce grief and depression. The sessions include a heart treatment in which a dough dam filled with herbal oil helps to draw out excess heaviness, aroma therapies, and vital points called marma are utilized.  A health intake will help determine the duration of the treatments along with coaching.
Ayurvedic Cleanse: A tailored program to help cleanse the body with diet, herbs, lifestyle, and other Ayurvedic techniques help to rid the body of ama (toxins), and improve overall ojas, immunity, and bliss.
Ayurveda Stress Buster Treatment:  Aromatherapy and herbal creams on vital points called marma points help to alkalize the body, improve complexion, reduce stress, reduce EMF, and circulate prana for greater ease and awareness.  Includes a special clay  treatment for tired eyes, burning eyes, and general fatigue from over use of the computer.
Technology Addiction Support with Ayurveda:  Learn new healthy ways to ease off technology and connect with your self, others, and nature.
Ayurvedic Head, Sinus, and Face Rejuvenation Treatment. This ancient and traditional treatment is called Nasya,  helps to open the channels in the head, neck, shoulders, and sinuses. It is a detoxification treatment, and traditionally offered in the Spring  helps clear excess build up mucus and toxins called ama. It helps to clear both the mind and sinuses, increases energy, reduces insomnia, combats Spring allergies, and balances kapha. Traditionally treatments are done for three days with a monthly follow-up treatment. An intake session is required before a treatment to better access individual needs. This treatment includes: Herbal oil massage to head, face, neck, and shoulders to open up the channels followed by herbal steam to head and face with a medicated essential oil blend called Tribindu. Hot towel compresses on face, neck and shoulders help to further open the channels. Lastly, herbalized nasal drops are administered to purify and lubricate the sinuses. Call 530 401 8627 to schedule.
……………………………………………………………………………………………………….
OPEN CLINIC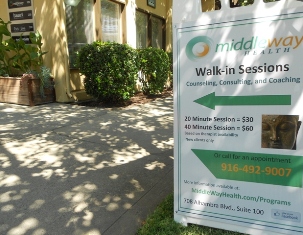 Middle Way Health Open Clinic is open on a Drop-In basis upon availability of therapists. It is a walk-in counseling clinic, designed as a way for NEW clients to meet with a therapist without a scheduled appointment. Sessions are available in Counseling, Coaching & Consulting.
Many individuals feel overwhelmed with the process of beginning therapy, and it is completely normal to feel this way. Sometimes beginning the therapy process means waiting two or more weeks for an initial intake appointment. At the Open Clinic, you are able to directly address your presenting concerns immediately and without the commitment of a pre-scheduled appointment or commitment to long-term therapy. It is for people dealing with a difficult situation or acute challenge; for busy people who don't always know their schedule, want to meet with a therapist right away, or just want to try it on for size.
The Middle Way Health Open Clinic is located in Midtown Sacramento (across from McKinley Park) at 708 Alhambra Blvd., Suite 100, Sacramento, CA 95816. The attending therapist will meet with clients in the order in which clients arrive and sign-in at the front desk during Open Clinic hours. There will be a few short forms that you will need to complete. The Open Clinic is private-pay only and does not accept insurance. Payment may be paid by cash, check or credit card.
Open Clinic hours are Monday through Saturday, 9am to 5pm. Feel free to call ahead of time to verify clinician availability. (916) 492-9007.
*Middle Way Health Open Clinic is not an emergency room facility. If you are experiencing an emergency, call 911 or go to the closest emergency room. You may also contact the local crisis hotline: 916-368-3111