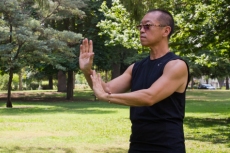 Qigong/Tai Chi Instructor
Co-Founder, WarriorHeart
rshogo@gmail.com
Robert Nakashima of Inner Circle Tai Chi began his study of martial arts 30 years ago, specializing in Tai Chi, Xingyi and Bagua. He teaches public and private classes in the Sacramento area and is a multiple gold medalist and Grand Champion in national and international competitions. He is the co-founder and Chief Instructor of WarrriorHeart, a non-profit organization dedicated to teaching Tai Chi, Qigong and Yoga to those with chronic illness. In addition, he holds a second degree black belt in Okinawan Uechi Ryu karate. Robert teaches QiGong classes through Middle Way Health Tuesdays from 11am-12pm. His classes are suitable for people with disabilities and those of all ages and experience levels. Please contact Middle Way Health for more details, or email Robert directly for one-on-one training at rshogo@gmail.com.