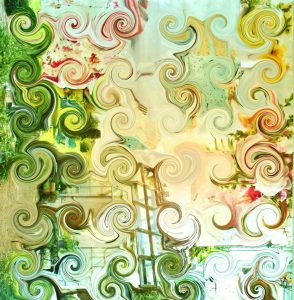 "We are a gallery and a center for healing and creativity – as we know it is all connected – creating the kind of intimacy that facilitates profound healing."
Did you make it out to the Middleway Health Foundation Open House & Art Reception on 2nd Saturday, October 8? It was a fundraiser for the Foundation with lots of art for sale, delicious small bites, lively music, and friendly faces.
Middleway Health Foundation is Middle Way Health's nonprofit providing free mental health services to the community. It was born from a need to help close a significant 'gap' in public and private mental health services. The goal is to find those people who have 'fallen between the cracks' or are in danger of doing so. By taking these services out into the community where access is limited and obtaining accurate information, the Foundation directly connects people in need with available services so they can make their own informed health decisions. Clients have direct access to and benefit from:
Counseling
Psychotherapy
Meditation & Mindfulness
Support Groups
Health Counseling
Healthcare Provider Directory
The Foundation hosted a handful of local artists whose work was displayed throughout both the Foundation offices and Middle Way Health offices (virtually next door to one another). In fact, you can stop by to view the art in any and all open rooms. Just keep in mind that these are therapy offices with private healing sessions happening behind closed doors, so your peaceful presence is appreciated.
Aside from raising money for the Foundation (which currently receives no grants or government funding), our intention with the art gallery space was to highlight the significance of creative expression. Because creativity and art save lives; and beauty heals and inspires.
While we have two rooms dedicated to gallery art, we also have artwork for sale in our therapy offices. While every room has art, keep in mind that not all of the rooms will be accessible at all times. So if you drop in more than once, you might get a different experience each time.
What does that make us, then? Ever expanding our wings! We're not just an art gallery and not just a healing center. We are a gallery and a center for healing and creativity – as we know it is all connected – creating the kind of intimacy that facilitates profound healing. We know the artists personally, and we are the artists. We create to heal and express, and we sometimes combine work and play to facilitate emotional balance. We also highly encourage others to experiment with their own creativity and authentic self expression.
Why art, expression, creativity, beauty? When we consciously stop to appreciate something outside of ourselves, this awareness creates a bridge, a connection, a relationship – thus we are no longer entirely separate from that which we are appreciating.
Art initiates conversation, opens minds and moves spirits. In this regard, art isn't just 'art' but something that stirs the soul and awakens the psyche. We also create art by how we live out our days, a kind of 'performance art' of how we choose to appreciate our existence.
This kind of art isn't something we make alone; it's something we co-create with our environment. Our relationships and communities are a public work of art. When we consciously create these together, we get a better sense of who we are personally. And all of this facilitates healing.
The Foundation Gallery is also open 2nd Saturdays, or by appointment. Artists currently exhibiting are: Jonathan Baran, Hope Harris, Melanie Noel Light, Phil Littman, Michael Mikolon, Fran Quinzon, Sandra Warne.
For more on Middleway Health Foundation.