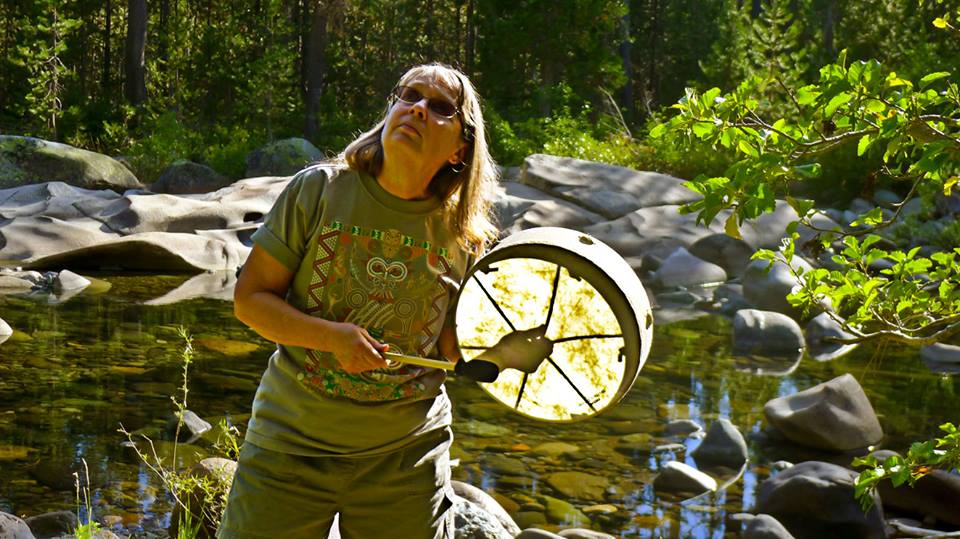 Shamanic Coaching:
How to Create a Vibrant Practice
"Once you have the pathway to your Helpers, you become empowered to work with them as needed."
Shamanic Journeywork forms the foundation of shamanic practice. When journeying to the drum or rattle, you enter into a meditative state where you come into direct relationship with the compassionate helping spirits in non-ordinary reality.
Helping Spirits are the transpersonal beings, angels, power animals, ancestors, and teachers that want to help us. They are already nearby giving us intuition and ideas, yet when we meet them "face to face" in a journey, we get to know them and how they can help. This help can be guidance, creative ideas, focus, support, healing, strength and knowledge.
For example, you might have a problem with a project at work. You go into the shamanic state of consciousness and ask for a helper to assist you. Eagle flies to you and says: "You need a different perspective." He puts you on his back and flies up into the sky. Looking down you see the entire project laid out before you. He flies you along the timeline. You see each part of the project and every person's part. You see what's working and what's not working. Ideas start flooding into your mind. Eagle flies you around it again and says: "You were stuck on your little part and couldn't see past that." He takes you back to your starting place and you thank him for your renewed enthusiasm. You're past the block and you feel confident. The Journey took 10 minutes. Problem solved.
The power in the practice is that you don't have to wait for inspiration to hit you. You go right to the source that can help. It's like calling Mom up and asking: How did we make that salad? Journey to your Spirit Teacher and ask a question. They will share their knowledge with you immediately. Your job is to ask and allow yourself to receive.
The first step is to learn how to journey. That's actually easy and can be learned in 2 or 3 sessions. Once you have the pathway to your Helpers, you become empowered to work with them as needed. Learning how to journey is fun and involves learning just a few protocols.
Next we use the journey technique to work with your questions, needs, and issues. What do you want to improve in your life? That's what you will work on in a coaching session – your real life stuff. My job is to guide you as to how you can use the practice and set intentions for journeying that get results and keep you learning.
Your teachers are your helping spirits. They know you at the soul level and are the perfect teachers for you. I am here to assist you in fine tuning your practice to the point where you don't need me anymore.
Once you understand the practice, there are Journey Circles, workshops and events available throughout the year so that you can practice with like-minded people and share in their experience. Journeying in a group and sharing your experience helps you grow in the practice as well. You get to be heard and tell your story. Journeying with others is powerful. You will receive many perspectives and keep growing in the process.
For more information, please give me a call: 916-492-9007