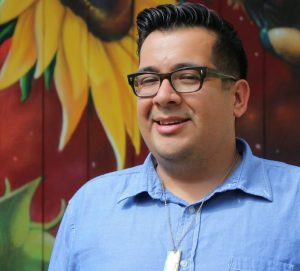 Having been cooped up in the house much of the day, the cool, breezy evening air feels refreshing on my skin. It is not long, however, before I notice some dark clouds inching closer and the wind whipping harder around the curve of the building. A hope arises in me that it contains itself long enough for Jesus and I to get acquainted.
I ask him to share whatever he'd like to about himself, which he does with poise, as if he's told his life story a hundred times. He seems comfortable in his own skin and comfortable in his environment, which at the moment happens to be a metal patio set on a concrete slab at Starbucks. Self-assured, well spoken and forthcoming are descriptions that come to mind as Jesus begins telling me about himself and his journey up to this point in his life.
Jesus Sanchez grew up in the tough barrio of East Salinas, but was immersed in methods of traditional medicine, inner-tribal revitalization movements, tribal cultures, and Aztec Dance – by both his family and community. This really enriched his life at the time and later contributed to how he lives it as an adult. And he now brings these things to his practice. Not just as a therapist but a Spiritual Practitioner, with an emphasis on the word "practice", he says. "We have to make it part of our daily lives. What speaks to your mind/body/spirit and brings you vitality? This is your medicine. We need to commit to it and practice it."
Tell more about your background, I ask.
"I graduated in May 2013 from Sac State for MFCC, although my first Master's degree was in History. There I became disappointed that LGBT/queer youth were largely ignored, so I started conducting research regarding the disparities they were facing. My research revealed that the number one disparity was mental health. I heard over and over again, 'There's so much trauma; we need somebody to talk to.' Having a shared experienced with the community, I decided to focus my efforts toward becoming part of the healing process, which led me to the field. I feel really blessed to be at Middle Way Health."
How about your work experience?
"My first internship was doing clinical work at The Lighthouse Family Resource and Counseling Center. I was then at Yolo Family Resource Center in Woodland as a counselor. I have worked with young children all the way up to retirees, and like to focus on coming up with strategies not just for healing, but ongoing health."
Yes, that is what Middle Way Health is all about. Self Care.
"We have to contribute to all essence of life – build our relationships, share our strengths… regardless of our trauma. We need to reconnect to being healthy. Health is social too! Have you abandoned culture and art? Abandoned mindfulness of what you're taking into your body?"
"I think here's been a return to psyche, which is connected to spirit. And I have a spiritual background blended with traditional psychotherapy training. I think there's finesse in how these two meet. Mindfulness has a spiritual aspect, acting like a medium that helps us to cross boundaries."
"How do you live your life in ceremony, with intent, thinking of it as ritual? For instance, altar-making: A sanctuary with elements that remind you of things that ground you, your definition of a higher power, and what it does for you. I think we're all looking for that medicine, and people connect to these types of traditions, even if they may come from very different backgrounds. We have a connection to the sacred elements that call to us, reminding us of our intent, our faith, and hope."
You're also a community organizer and activist?
"I have been an activist since I was a teenager. However, recently my efforts have concentrated on creating strategies for change with disenfranchised youth communities, from LGBT youth to those who have been recently incarcerated."
"I'm very transparent; these are my practices and these are the tools I can give you, the ways I can help you. How can we build on it based on your needs?"
~
To contact Jesus, email him at Jesus@MiddleWayHealth.com or call Middle Way Health at 916.492.9007
{We've also recently brought on board two more interns – Colleen Wong and Junko Quest. You can read more about them in our upcoming July issue of La Dolce Vita Online Magazine}