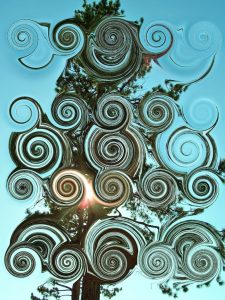 When I first met Stephen, he was a therapist at the Sacramento Complementary Health Center, and was gracious enough to give me a phone interview for an article to be published in the Midtown Monthly. It was my first paying writing gig, although I had already self published my first book, Portals to the Soul, the Psyche & a More Enchanted Life. That was about 10 years ago.
Now we work together in various professional and creative capacities at Middle Way Health, a wellbeing center Stephen founded in 2000 that currently has 14 practitioners under its roof. None of this was really by accident, however, and a lot has transpired between then and now (March 2015).
When Stephen approached me not long after the article was published about helping him write a book of his own, he was transitioning into monkhood. By the time we had our first face-to-face encounter he was wearing red Tibetan robes and told me his Buddhist name was Lama Yeshe Jinpa (Lama Jinpa or Lama la for short). It seemed a drastic change in a short amount of time from my perspective, but I liked his vibe and went with the flow.
And that's how it began – going with the flow.
We met at Stephen's then-office in an 18th & I street Tudor in Downtown Sacramento once a week. The book was to be nonfiction, based on Joseph Campbell's The Hero's Journey and Buddhism's Five Precepts of Liberation. He had a lot to teach me about both, and I felt grateful to have such a willing teacher. While at times the information was dizzying, there was also a very calm, comforting energy about the space. So calm, in fact, that while my mind was often in overdrive, there were plenty of times I could have simply slipped into slumber. It was just one of the several conundrums to come.
Once we had the backbone of the book completed, Stephen's vision enlarged. He thought a fiction component would complement the nonfiction aspect; His plan being to create a workshop series based on the book(s). So writing a novel together we set out to do, seemingly pulling it all from thin air…
And of course life and work and what-have-you intervened. For instance, one day Stephen appeared at our weekly meeting in civilian clothes. He said that this was a long time coming, as his practice had been struggling from too many clients being unfamiliar and uncomfortable with his traditional Tibetan Buddhist apparel. So although he was hanging up his robes, he was still to be a Lama – a teacher of Tibetan Buddhism, as well as a LMFT – therapist to the community.
Saving his career and settling back into a traditional lifestyle with new wife Sabrina, Stephen soon needed an updated website, a brochure for this and that, an article here and there… and I was capable and willing. But as life ramps up, so must we. And with new pressures and old ones growing, personality tendencies tend to emerge.
I learned that Stephen's typical laissez-faire air is sometimes countered by an assertive, almost anxious impatience, usually sprinkled with a pinch of positivity. Feeling trapped within this dichotomy at times, I practiced holding my own inner anxiety in check.
Then came the decision to invite His Holiness the Dalai Lama to Sacramento via Lama la's Buddhist organization Lion's Roar. We worked on the vision and wrote the invitation together, soon attending meetings with various movers and shakers interested in funding or directing the project. People came out of the woodwork to be involved – I myself was honored to have a role. And yet before we knew it (although we could sense it coming), politics engulfed the plan in flames.
Still harboring hope for a future visit, we buried ourselves in another expansion project. Stephen moved to a larger office – a Victorian on 19th Street, where his assistant Judy Lynn Taylor could have more space to do her Shamanic Healing practice, his wife Sabrina Schultz could begin nutrition consulting, and I could start a Writing Coaching practice. There was enough space where people could actually come together – Stephen's family, his dharma students, fellow professionals and clients – and it began to feel more like a community.
Meanwhile, I got married and went freelance full time. Meanwhile still, we continued chipping away at the book together, watching this crazy adventure and blossoming characters come to life before our eyes. We poured our own experiences into the scenes, the back story, the heroism, and the vulnerability, which required a significant level of openness and trust. I felt respected by, as well as a kinship with Stephen that resembled my relationship with my own father.
The workshop vision deepened as we juggled a connection between it and the novel. While it was difficult for me to imagine how Stephen was going to implement this massively unique endeavor, it wasn't the first time I had to go on faith alone… So I practiced patience gathering, deep breathing, and clarification-attempting communications that sometimes made me feel we were coming from two different dimensions.
One more move, more expansion, and even more space acquired, Middle Way Health then blossomed into actual office space across from Sacramento's historic McKinley Park, which borders Downtown and East Sacramento. Now with more physical space as well, the vastness of Stephen's projects became more transparent and it was clear that he had zero plans to slow down any time soon. Which meant, more plates for the rest of us to spin. But also, more opportunities to grow and connect.
There was now designated space in which clients, colleagues, friends and family could mingle; adding more of a personal and communal connection to the mix. Weekly Tai Chi classes began with Inner Circle founder Robert Nakashima. A blog was started, and blog book one ultimately published. Interns were brought on, we started an online magazine (La Dolce Vita), and began holding Open Houses. The workshops began, Middle Way Health Foundation was launched, and more health practitioners (with more varied healing modalities) joined the team. An Art Gallery was established, Open Clinic was launched, and formal waiting room unveiled.
Last but not least for now (still March 2015), Stephen's, or Lama Jinpa's Buddhist organization Lion's Roar recently acquired a charming church around the corner on B Street. It has been the grandest maneuver yet, and may well be the most connective – being not only a place for Lion's Roar and its students to grow… but for many of Stephen's endeavors to occasionally come together in one place.
So not unsurprisingly, his time has become stretched thin, leaving the rest of us to struggle with the consequences of all this change.
All of this has left little time to finish the book – Oh, yes, the book – although we have continued to chip away at it here and there and are achingly close to completion. Only thing is, it's time to publish another issue of La Dolce Vita, we've just created a healthcare provider directory that needs to be put on the website, the new Dream Life Room needs more decorating TLC, we may be extending another invite to the Dalai Lama in the near future, and, well… Oh, wait – Did I say, "only" thing is…?