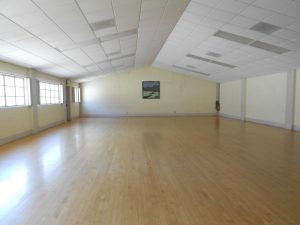 "Internal martial arts gives you a method of learning to focus awareness and refine sensitivity. The techniques in themselves are not so important–functioning as concepts or points of departure for a deeper discussion of what's really going on in a given interaction. In that sense, the lessons apply to all things." ~Robert Nakashima, Inner Circle Tai Chi
There is a handful of friendly folks in the room chatting among themselves while they wait for the instructor Robert Nakashima. The ages on this day probably range from bout 30s to 70s, with backgrounds as varied as can be. A tall, older gentleman turns to me and says, "I'm not giving up." I smile and ask if he's talking about the class or life, to which he replies, "Both."
I myself am experiencing some physical discomfort with a pinched sciatic nerve, and wonder how this session will go for me. I know there are others in the room with physical limitations and concerns, and yet we've all shown up.
Robert appears as his usual welcoming and upbeat self, and the class begins without much ado. I notice that the energy in the space is calming and on the quiet side, and I am surprised at how quickly I feel relaxation. Robert's teaching style is casual and often humorous as he weaves philosophy and practical instruction like golden thread through the silence. It is anything but deafening, however, as there is occasional banter between participants and instructor, and some questions here and there as well.
Today, it's all about spiraling energy, opposites balancing, and connecting the body in fluid movements. It's about recognizing that moment when all is one… while continuing to move through it. Again and again.
"A tiny bit of motion gets a lot of tissue moving," Robert says. "There's tremendous power in gentleness because you're directing your energy… (but) you don't have to over-think it. This way it's more meditative and relaxing." And beneficial, not to mention. "Tai Chi can strengthen organs, making tissues more flexible and increasing oxygen in the body, thus energizing it."
Toward the end of the hour I am so relaxed I could easily fall into a deep sleep, and yet I'm somehow also eager to tackle the rest of my day. I want to ask Robert about doing Tai Chi with an injury but he reads my mind, talking about modifying the intensity of the movements to fit your current level of flexibility or ability. And I realize that's exactly what I have done.
"The Chi knows what to do," Robert says. "We just have to be open to letting it."
After we perform the ritual closing moves, Robert turns to the tall, older gentleman. "How was that? Was that too much standing?"
"No. I could hardly stand when I came in," he responds. "Now I feel great."
Robert's Tai Chi/Qigong classes are suitable for those of all ages and experience levels, as well as people with disabilities. Classes are taught Tuesdays at noon at Lion's Roar Dharma Center. Call 916.492.9007 for more information or visit our website: http://lionsroardharmacenter.org/